Seldom have the eyes of the rugby public been more focused on referees than in 2011. There has been much controversy about refereeing decisions during the Rugby World Cup 2011. Perhaps this is why the final of our premier rugby competition – the Currie Cup – will be officiated by an optometrist with lots of experience!!
The experienced Mark Lawrence will referee his second Absa Currie Cup Final when he takes charge of the match between the MTN Golden Lions and The Sharks in Johannesburg on Saturday.
The 46-year-old Lawrence, who recently announced his retirement from international match officiating, refereed the Absa Currie Cup Final in 2007 and the Vodacom Super 14 Final in 2008.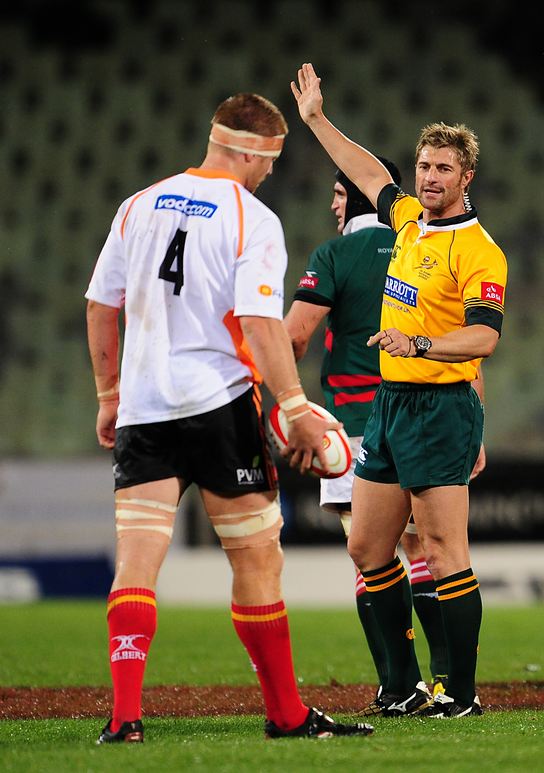 "Mark has consistently been one of the best referees in South Africa, if not the world, and his appointment to the Absa Currie Cup Final is just reward for his superb performances not only this season, but throughout his career.
"The decision has not been easy as we are blessed with some very good referees who are capable of refereeing finals. The performances of Marius Jonker and Jaco Peyper in the semi-finals are testimony to this," said André Watson, General Manager of the South African Rugby Referees Association.
Lawrence will be assisted by Stefan Breytenbach and Christi du Preez as Assistant Referees, with Marius Jonker as Reserve Referee, while Johan Meuwesen has been appointed Television Match Official.
More about the refereeing career of Mark Lawrence
Mark Lawrence (born 16 June 1965) is an international rugby union referee, from the Republic of South Africa. He refereed his first international test match, in 2000, and was chosen to officiate at both the 2003 Rugby World Cup and 2007 Rugby World Cup acting as a touch judge and a TMO in both competitions. He refereed the 2007 Currie Cup Final between the Free State Cheetahs and the Golden Lions.  He also refereed the 2008 Super 14 Final between the Crusaders and the Waratahs.
In September 2011, he announced his retirement from test rugby to concentrate on coaching emerging referees
Mark Lawrence is a regular columnist on the website of www.sareferees.co.za  answering questions from readers.
Mark Lawrence the Optometrist
Mark Lawrence qualified in 1987 and took over the optometrist practice in Standerton, Mpumalanga. Initially, Mark practiced as an optometrist for 12 years but due to his rugby obligations, he stopped practicing in 1999. In 2000 he re-opened his doors in the current premises in Standerton, Mpumalanga
Photos by Gerhard Steenkamp also available at Superimage.co.za