Covering soccer is a totally different ball game in comparison to Rugby. I covered the Celtic vs Maritzburg match two days ago at the Seisa Ramabodu stadium in Rocklands near Bloemfontein. I would like to share a few thoughts on capturing this game on camera. I really covered a lot of matches at the Seisa Ramabodu stadium the last couple of years and must say that not for one moment I felt unsafe when busy shooting in the stadium or walking to my car etc. The people are very friendly and always helpful.
Okay –  the main difference between Rugby and Soccer is that when shooting rugby one normally follows the ball and when shooting soccer a lot of time one is seeking for the guy who will probably receive the ball from a pass or the goalie from a shoot.
Further, I got different favourite spots"" to sit at than those of rugby. I figured this out while I was covering the Soccer World Cup in 2010 in South Africa. During a World Cup one must position yourself at the seat that is allocated to you which means during 15 Matches during the World Cup I was sitting at 15 different spots.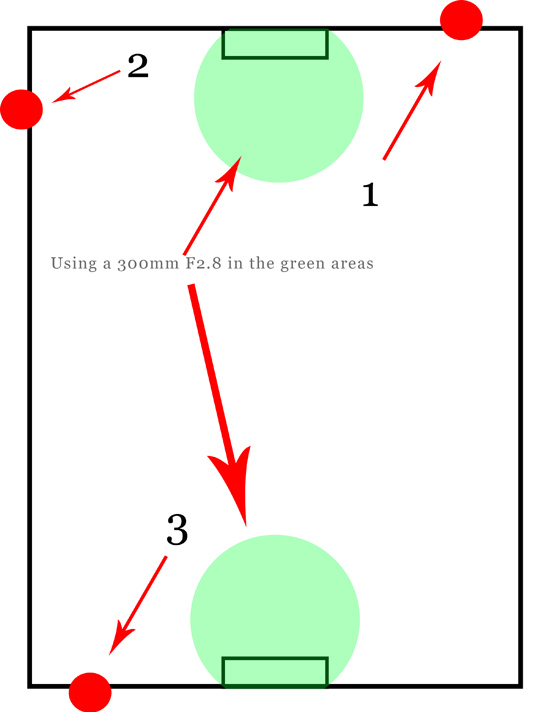 The reason for these spots is that I feel more comfortable when the open side is to my right and it feel that I can move more freely than when the open side is to my left because your left hand is on the monopod and one's right hand on the shutter. Well ….yes… Maybe it doesn't make sense but go and try it.
Spot 1 and 3 are exactly the same just on the opposite side of the field. Spot Number 2 is on the sideline and is a great place to shoot some action in the goal area from.
The reason why I didn't marked the right side of the field is because that part where the players(Bench) are sitting is normally out bounds for the photographers.
The settings that I used were the same that I used shooting rugby mentioned in the previous post of mine.
With soccer I also am using two cameras, one with the 400mm F2.8 and 1.4 converter fitted to it and the other one with the Nikon 300mm F2.8 fitted to it. The 300mm works well in the goal area(green area) specially from corner kicks.
I will cover most of the action in midfield with the Nikon D3 and 400mm. When the game is getting closer I will start looking for the shooters near the goal area who will receive the ball from the midfielders or the wings. If there is time I will switch to the 300 mm lens but normally there isn't so I will stick with the 400mm and wait for a corner kick before switching to the 300mm lens.
For more soccer images visit www.superimage.co.za