Would you believe that it is possible to recover photos from a digital camera that has fallen into the ocean. Perhaps after an hour  – but what about a Year?!!
Mike la Grange, a good friend of mine, is a huge fan of Canon and he could not resist sharing a true story on such an amazing discovery!!
We would like to share this with recognition to info from the Daily Mail.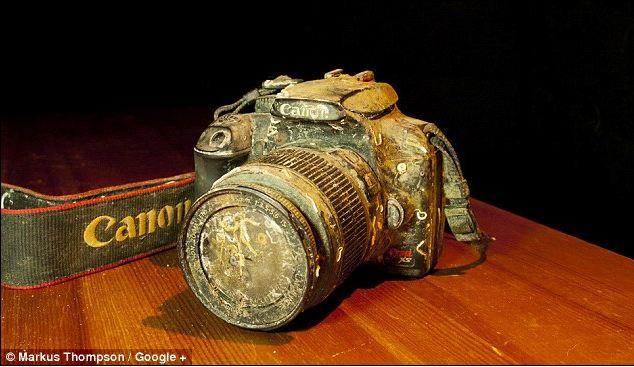 Summary: A camera which spent a year at the bottom of the ocean has been returned to its owner after being discovered by a scuba diving wildlife photographer. Markus Thompson had been diving Vancouver, British Columbia when he came across the submerged Canon EOS 1000D camera. Despite the apparent state of the camera, Thompson was able to recover 50 images of a family vacation from the memory card.
How did it get lost? The owner of this waterlogged camera dropped it in the ocean by accident in August 2010.
The Discovery:  A year later wildlife photographer Markus Thompson was scuba diving off Vancouver, British Columbia, when he stumbled upon the strange sight – an expensive digital camera lodged in Deep Bay.
Tracking the Owner with Social Media / Google+
Markus Thompson when back on dry land examined the SD memory card and was able to recover 50 photos. He then posted these photos on Google+  and also posted messages on Google+ asking if anyone had accidentally dropped the Canon EOS 1000D.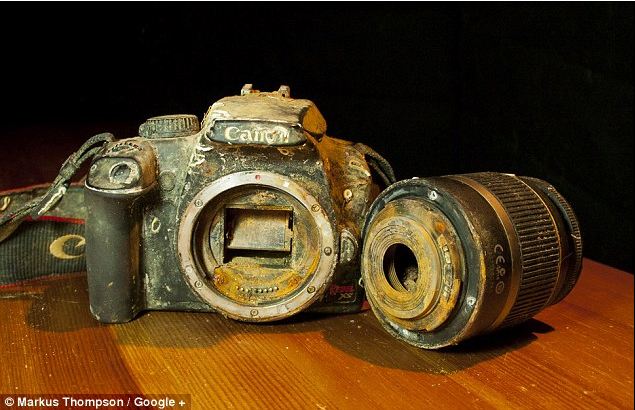 The Messages on Google+
Mr Thompson wrote:
'Approximately 50 pictures on the card from a family vacation. If you know a fire fighter from British Columbia whose team won the Pacific Regional Firefit competition, has a lovely wife and (now) 2 year old daughter – let me know. I would love to get them their vacation photos.'
Social networking sleuths began their detective work. Images recovered from the camera showed a regional fire fighting competition. Faces were compared, and the options were slowly narrowed down.
The search went viral – Mr Thompson received thousands of comments and shares – but it was only after he received an email from a friend of the owner that the mystery of the camera was solved.
Detective work:
The search for the camera's owner took only days after Mr Thompson posted photos he found on its memory card on the social networking site Google+
The friend, who signed the email simply as 'Hilary,' wrote: 'Hello Mark. Thank you so much for the email. Yes I know exactly who the camera belongs to! He is a Delta Fire Fighter. I will have him contact you.'
On his Google+ page, Mr Thompson details how he conducted his search, which included contacting local firefighters.
He also contacted Canon Canada with the serial number of the camera, but they said they had no record of the number.
Now, thanks to the wonders of social networking, the owner – an unnamed Canadian fireman – has his holiday photos back.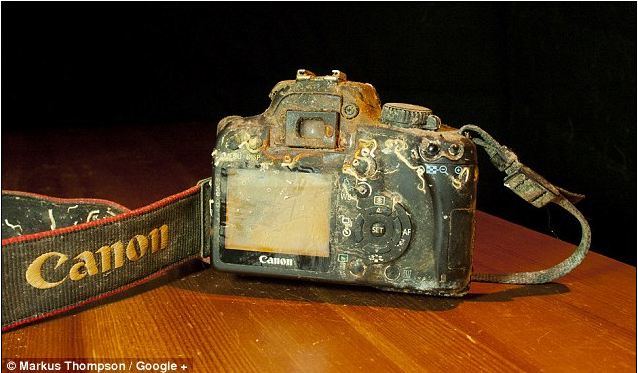 [Recognition to Daily Mail for info and Markus Thompson for photos]
It would be interesting to find the reaction from the insurance company on the news that the camera has been discovered….
Also view:
Can we and should we insure photos?
Smile – but only if your camera and equipment are insured!!
Zoom in on Camera Insurance even if you care for your equipment!!