SA Referee Craig Joubert has been rewarded for his consistency and good refereeing during the Rugby World Cup by being chosen to referee the 2011 Rugby World Cup final between New Zealand and France in Auckland on Sunday. Joubert is following in the footsteps of another South African referee, André Watson, who handled the finals in 1999 (between Australia and France) and 2003 (England versus Australia).
The Rugby World Cup will be remembered by many for the incompetence of referee Bryce Lawrence, as well as the dubious and often controversial calls made by many other referees. Amidst all the controversy referee Craig Joubert has been a shining light and a calming influence behind the whistle!
Mr Oregan Hoskins, President of the South African Rugby Union (SARU), congratulated referee Craig Joubert on his appointment to Sunday's Rugby World Cup Final between New Zealand and France at Eden Park in Auckland.
"We are immensely proud of his appointment," said Hoskins, "Craig and Jonathan Kaplan have flown the South African flag high amongst the match referees at the Rugby World Cup and to have Craig appointed to the final is testimony to the excellent work done by SARU's referees' department.
Watson, general manager of the SARU Referees, said Joubert's appointment is just reward for his superb performances in New Zealand in the last two months, as well as his consistency at the top level since making his Test debut in 2005.
"Craig has been rated one of the top referees in world rugby for the last few seasons, which was evident when one looked at his appointments in competitions like the Six Nations and the Tri-Nations," said Watson.
"He also has experience of refereeing in big finals, like the Vodacom Super Rugby final in 2010, as well as the Absa Currie Cup final last year. Craig will be flying the flag on behalf of a very special group of South African referees and I know he is immensely proud of representing them all on the biggest stage in world rugby.
"This appointment is a testimony to the hard work of many people in the SA Referees' fraternity and I would like to thank them. Credit also to Jonathan Kaplan and Shaun Veldsman, who represented South Africa with aplomb at the recent Rugby World Cup."
Joubert said he was immensely proud to be handed the final of the Rugby World Cup, even though he would not have minded being in the stands willing the Springboks on to successfully defend their title.
"That was not to be, and like any Springbok supporter, it's disappointing that they are not in the final, but now I have the opportunity to fly the South African flag in the absence of our beloved Boks and I hope to make my country proud," said Joubert.
"I'm really privileged and proud. My late father got me into refereeing and I can't help but think how proud he would have been. It was an emotional moment and the pinnacle of my career to be appointed to referee the Final.
"It's a huge moment for any rugby player, to play in a Rugby World Cup Final, as they build to this for four years, but so do we as referees. It's been a privilege to referee at this tournament and this appointment is really the cherry on top. I'd like to thank everyone that has been part of my career and that have helped me along the way."
Speaking about his preparation for Sunday's Final, Joubert said that he won't be doing anything different than before.
"Yes, it is a Rugby World Cup Final, but my preparation will be the same as for any other game in my career. It's a big occasion big, but I will have to concentrate on carrying on doing what I've been doing and to be consistent. My approach won't change," he explained.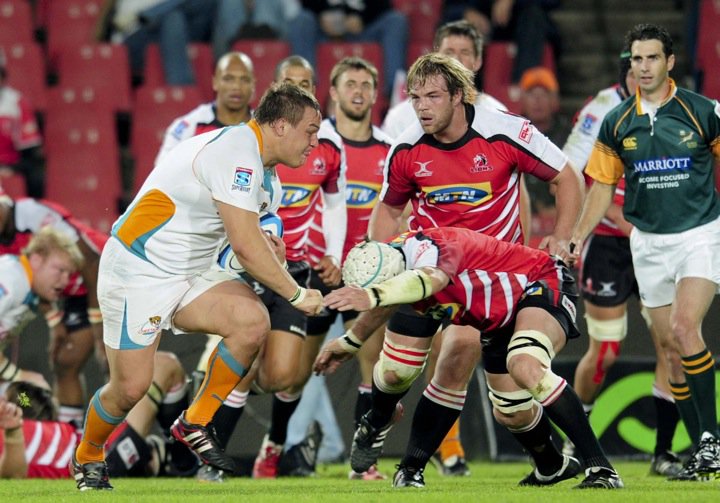 Refereeing Career of Craig Joubert
It was only last year that Craig Joubert at 32 became the youngest referee to referee a Currie Cup Final. We have come across an interview shared on the SA Referees website which reveals some interesting info about Craig Joubert and his approach to finals rugby!
We would like to share a few questions from this interview with recognition to the SA Referees website.
Question: Hi Craig, thanks for chatting to us! Let's go… Tell us, did you expect to referee the Currie Cup Final?
Craig Joubert: "Hi there, my pleasure! Well, one can never expect to be appointed to finals. In South Africa we have four referees on the IRB panel (the most of any country worldwide). Jonathan Kaplan is the world's most experienced referee with over 50 Tests and a number of Currie Cup Finals already under his belt, Mark Lawrence has refereed both Super Rugby and Currie Cup Finals and Marius Jonker is refereeing his third Currie Cup semifinal and has refereed at the Rugby World Cup. Clearly any one of them could just as easily have been refereeing this one.
"It is a privilege to be appointed and I can't wait."
Question: What is special to you about the Currie Cup Final?
Craig Joubert: "My very first rugby memory is of watching Naas in the pouring rain in the 1987 Currie Cup Final, scoring all Northern Transvaal's points in beating Transvaal at Ellis Park. Since that day the Currie Cup has had a very special place in my heart. I have watched a few Currie Cup Finals live, have been the reserve referee for one and the television match official for one – all of which have again reconfirmed what a special day Currie Cup Final day is on the SA Rugby calendar.
"To be out in the middle refereeing this years edition is a very special moment and one which I have aspired to for years."
Question: How are you going to prepare for this match?
Craig Joubert: "Exactly the same as I prepare for any other match. Physically I'll continue to follow my usual training programme and my analysis of the teams will be the same process I have followed for every Currie Cup, Super 14 and Test match I have refereed this year. Whilst the stakes are higher, consistency and belief in the approach which has been successful till now are important to me."
Question: How does your family feel about it all?
Craig Joubert: "My family is thrilled as they know how much the Currie Cup means to me. As they were for the Super 14 Final, they'll be in the crowd on Currie Cup Final day. My only regret is that my dad can't be here to watch. He is the one who installed this passion for South African rugby in me and I know how much he would have enjoyed to watch me referee the Currie Cup Final!"
Some Craig Joubert statistics before the Currie Cup Final 2010
Test matches: 20
Super Rugby matches: 39
Currie Cup matches: 57
Top Test so far: Bledisloe Cup, Australia vs New Zealand 2008
Top Super Rugby match so far: Super 14 Final 2010 – Bulls vs Stormers. Also Sharks vs Bulls (2009)
Top Currie Cup match so far: 2007 CC semifinal – Cheetahs vs Bulls, Bloemfontein