There is something about safari life that makes you forget all your sorrows and feel as if you had drunk half a bottle of champagne – bubbling over with heartfelt gratitude for being alive. One only feels really free when one can go in whatever direction one pleases over the plains, to get to the river at sundown and pitch one's camp, with the knowledge that one can fall asleep beneath other trees, with another view before one, the next night- Karen Blixen – Out of Africa
A friend once asked me what was on my bucket list, the answer was easy …I dreamt of seeing more of Africa…..and photography being such a great passion is seems just natural that I would go on a photographic Safari. A year ago a chance meeting with an old friend, Hilton Kotze, a host for Outdoorphoto, led to a commitment to travel to the Masai Mara.
Where is the Masai Mara?
The Masai Mara National Reserve in Kenia was named for the Maasai people who inhabit the area, and for the Mara River, which flows through this great reserve. It shares a border with Tanzania's Serengeti National Park, and is essentially a continuation of this park, forming the Serengeti-Mara ecosystem. Overlooking the vast Mara Plains, Kichwa Tembo is a private concession leased from the Maasai and lies directly in the path of the Great Migration.
Immortalised in the tales of early safari travellers, the Masai Mara National Reserve extends the wildlife borders of the Serengeti by another 1510km (2). Famous for the dramatic massed herds of the Great Migration, it is also home to excellent game, including Africa's Big Five. With over 500 recorded bird species, the Mara is a birding enthusiast's paradise.
Masai Mara is also known as the "spotted land" to the Maasai.
The 1.3 million strong wildebeest herd of Tanzania and Kenya trace a clockwise circuit of East Africa's great grassland plains, following the rain and the ripening grasses. Burchelli's Zebras infiltrate the black mass, perhaps seeking protection amid the numbers, while other hoofed species join the migration on its fringes, a colorful carnival of herbivores trudging, lurching, and leaping across the grasslands and woodlands. Africa's great predators are never far away from the menagerie.
The trek begins in the south, after the wildebeest birthing season in February. The herd moves northwest, chasing rain and abundance, arriving at the northern end of the circuit in the Mara Triangle in July or August. Predicting where the wildebeest will be with any precision is impossible, but, generally, the migration follows a regular pattern, although one ultimately dictated by the vagaries of wind, sun, and rain.
On Friday evening the 9th of September 2011 I met up with my photographer friends at Oliver Tambo Airport. We departed at 00h30 for Nairobi. After arrival in Nairobi we were transported to Wilson Airport where we boarded our small aircraft to Kichwa Temba.
Kichwa Temba is situated in the remote north western part of the reserve and offers both a savanna and forest experience. Warthog wander among the safari tents or nap under the veranda looking over the magnificent grasslands of the Sabaringo River.
On arrival, safari vehicles drove us to the lodge. Just from the airport to the lodge, there is such an amazing abundance of game.
Our first game drive started off  at 4pm with rain coats on, but in the end it was all worth it. After the rain had subsided we found a lioness hunting zebra and watched the chase and kill from start to finish.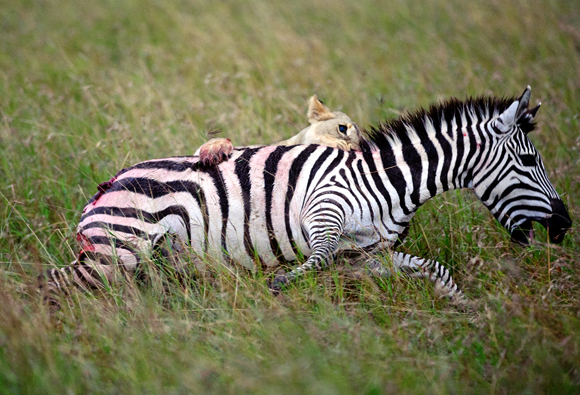 Day 2 started off at 6h30 am. We came across Elephant, Giraffe, Eland, Buffalo, Topi, Thomsons Gazelle, Zebra, Dufasa Waterbuck, Lions and Cheetah.
Even though we haven't been able to catch a river crossing yet, day 2 of the safari produced some fantastic photographic opportunities . We found a lioness sleeping in a tree, lions feeding and chasing off hyenas and in the end vultures taking over.
Due to some rain the previous night, a lot of the dams were overflowing and many cat fish and amphibians were washed out. Producing some fantastic photographic opportunities of birds attracted and taking advantage of this.
We had a lovely break and and awesome lunch under a big fig tree. Our day was perfectly ended off with a display of Masai dancing.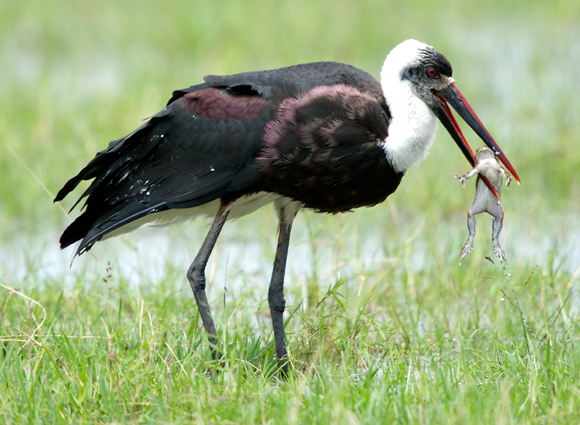 Day 3 we were greeted by a glorious East African sunrise filled with hot air balloons as we headed out onto the plains to see what the Mara could offer us.
We first found some hyena pups. The day ended off with a series of small crossings. Later in the afternoon we found a rare phenomena we found a fully grown male lion in a tree .
I can quite confidently say the highlight of day 4 was a cheetah mom with 3 cubs. We stayed with her and photographed the interaction between mom and cubs. Later we found 3 lionesses with 2 cubs which was just as special.
Day 5 turned out to be cloudy, but despite that he day was very productive concerning general game and predators.
As we set out on the second last day we were all very hopeful of seeing a crossing. Instead we found another cheetah mom, this time with 4 cubs. They gave us a real show .Running , tackling each other, trying their luck at tree climbing and posing with mom on a termite mound.
The last day we headed out on a short drive as we were scheduled to leave for SA. I can honestly say that this was one of the greatest photographic experiences I have been on.
Lioness in Masai Mara Photo: Denese Lups